The TRANSITION methodology
The power of TRANSITION is to start with a large knowledge base on existing systems, to improve our understanding of them. The consortium hopes to increase their resilience by identifying innovative strategies. TRANSITION therefore necessarily integrates a participatory and multi-stakeholder approach.
This is how TRANSITION identifies and exploits the most promising local strategies and biological resources to secure farm income and resilience. In each region, the multi-stakeholder approach is integrated into the project design by involving stakeholders (who receive key project outputs and have the power to facilitate TRANSITION) and practitioners (who directly benefit from the project in terms of increased livelihoods).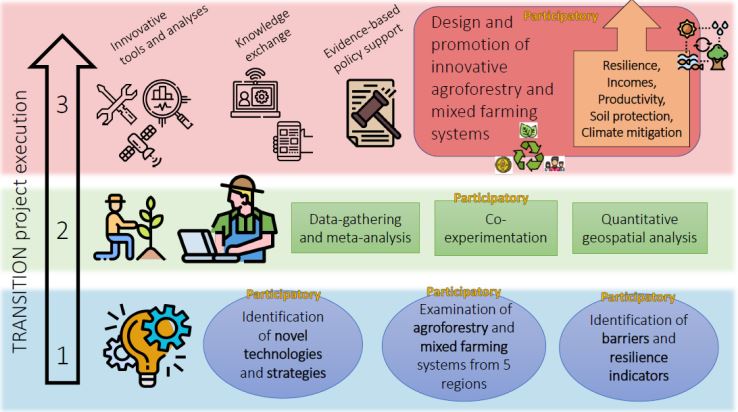 The first steps in TRANSITION are the identification of socio-economic barriers to more resilient farming systems.
Secondly, specific indicators of resilience will be developed for the targeted mixed farming and agroforestry systems.
Innovative resources and strategies will be identified and prioritised.
Later, the prioritised systems will be monitored on the ground and using earth observation, to create real estimations of impacts of implementation of the innovative farming systems on the resilience indicators.
Stakeholders are engaged to test and demonstrate the innovative resilience-building strategies.
Knowledge-sharing is promoted by deployment of an interactive digital platform of practice.
Partners conduct territorial analysis tools on climate risk and potential expansion scenarios of resilient systems.
Finally, following re-evaluation of indicators, barriers, all results and impacts are synthesized into a common framework among the four regions in a Basin-scale roadmap which is accompanied by strategizing with stakeholders for uptake and replication.